Lightning Talk - Digital Living Lab and Advantage SME
Lightning Talks are back!
Join us for this FREE event as August's Lightning Talk highlights two examples of Illawarra's continued growth and innovation in the ICT sector. Come and discover how local small and medium (SME) ICT businesses can access the capabilities, funding, and research from the University of Wollongong.

Prof Pascal Perez will present on UOW's Digital Living Lab - a SMART digital revolution for Wollongong. The Digital Living Lab is an initiative to connect individuals, community groups and businesses, helping them develop technology-based research-oriented projects to improve the livability of the city and the lifestyle of the people within it.

Advantage SME Manager, Zahra Shahbazian will present on Advantage SME, the partnership between the NSW Government's Boosting Business Innovation Program and the University of Wollongong. The program is designed to support local businesses to develop relationships, gain access to resources, engage with students, collaborate with researchers and leverage funding opportunities through the University of Wollongong.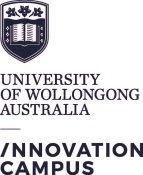 This Lightning Talk is sponsored by the University of Wollongong's Innovation Campus. The Innovation Campus is more than just a business park. They are an internationally recognised, award winning community connected with one of the world's best modern universities. To discover how the University of Wollongong's Innovation Campus could give your business the competitive edge visit www.innovationcampus.com.au today.
This is a FREE event - Finger food provided.